It's been 10 years or so since I've been to Kenya. I was delighted to be back in country, at Hemingways and for the second time, and finally get to explore a few iconic Nairobi experiences. First up was a half day in Nairobi National Park. The park was very dry and dusty, but wildlife sightings were good – a mating pair of lions taking a break to eat a kill as well as another single male lion not too far away. We saw 3 different rhinos, each with a calf – 2 black and 1 white rhino which was very unexpected. It's surreal to experience wildlife with the Nairobi skyline in the background!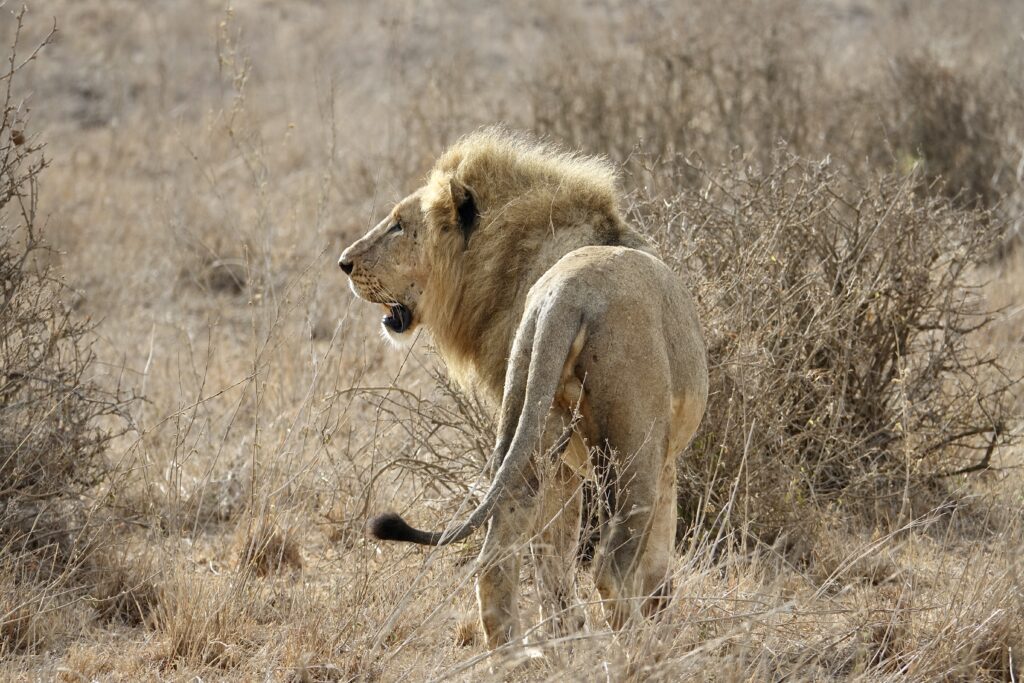 Later I went to the Sheldrick Elephant Orphanage which was cuteness overload! There are quite a few babies there due to the drought – it's quite the sight to see them running out towards their caretakers holding bottles of human baby formula. It's a 1-hour must-do when in Nairobi as is the Giraffe Center. You are given a little bowl of pellets, brown and green to feed the giraffes. The one I was feeding spit out every green pellet I gave her but ate all the brown ones. Green ones are dried grass, and the brown ones are a type of cereal with a little sweetener which clearly the giraffes love more…junk food!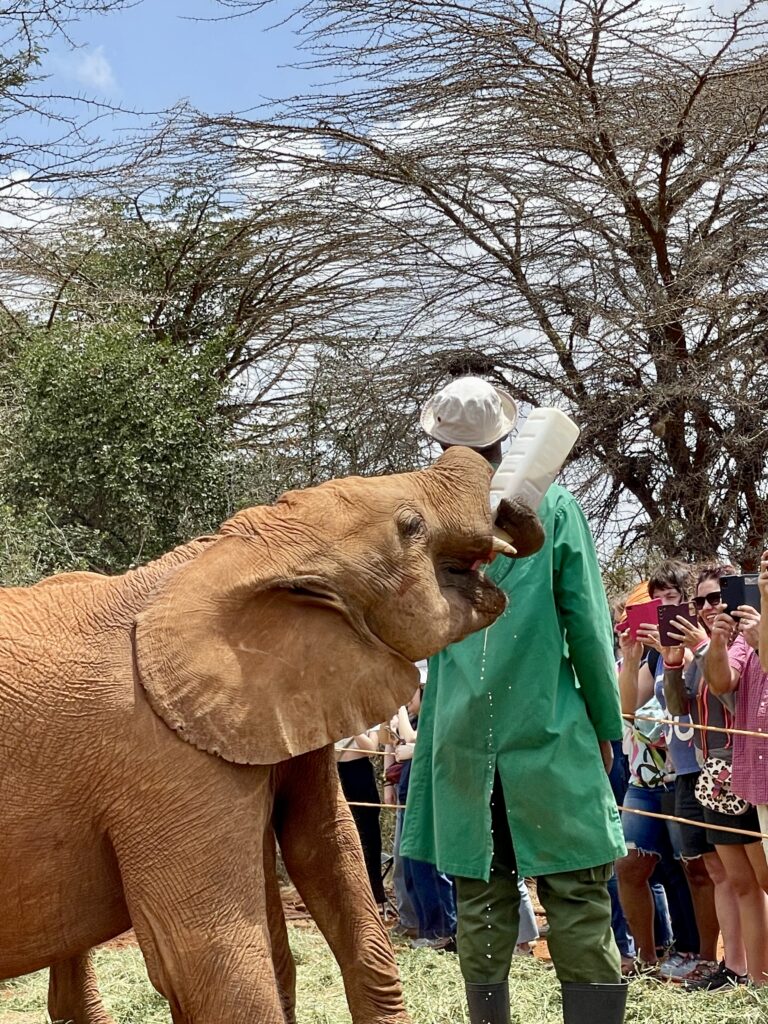 Amboseli, known for its elephants and Mt Kilimanjaro views, was horribly dry and dusty – sad to see. Were it not for the Oltukai and Longinye swamps, many more of the wildlife would have perished. There were quite a few carcasses, mostly wildebeest. Elephants, buffalo, birds and many antelope were in the swamps eating away or cooling off. We did see a pride of 7 lions, including the male, walking. Later we saw a cheetah mom and her 6 very large cubs eating at their warthog kill. The next day we saw the same lion pride at their zebra kill and I noticed one of the lionesses was extremely pregnant. My guide said it would be the first cub in the pride. I stayed at Tawi Lodge which is a lovely 4* camp. The quasi-tents were quite spacious with large bathrooms. Mt. Kilimanjaro views were visible from the lounge, dining areas and pool as well as from their preferred sundowner spot. I had stayed at Tortilis previously so went for a site inspection and lunch then also checked out Elerai, all lovely 4* properties.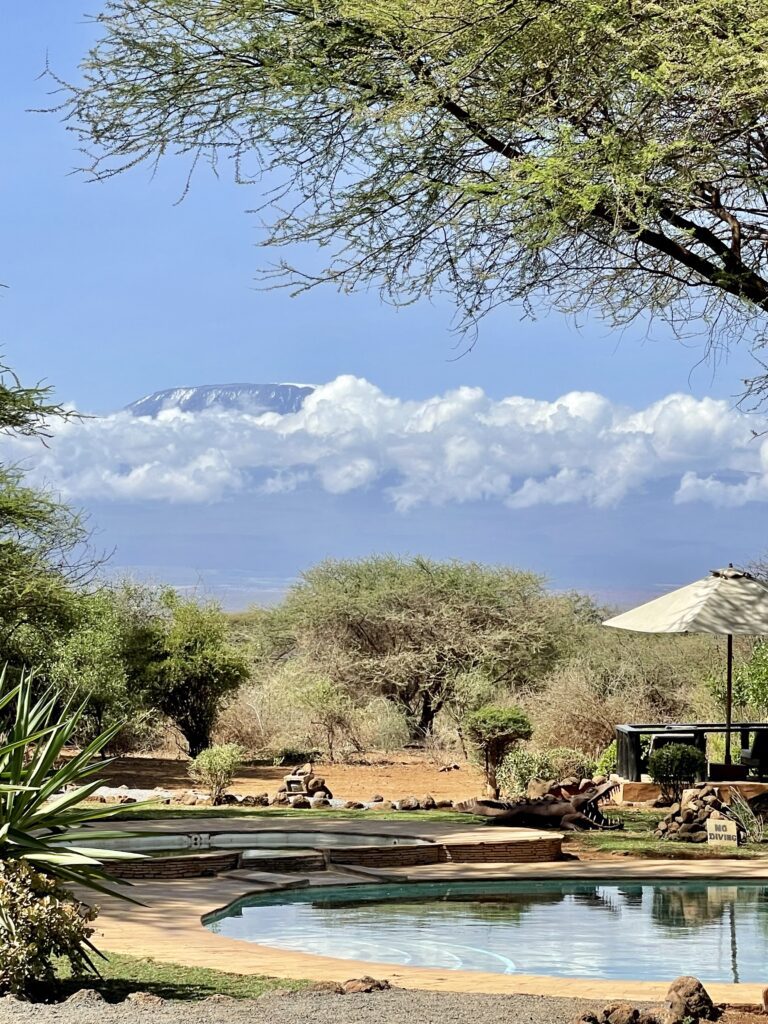 On to Samburu National Reserve, known for the 'Unique 5' which includes the gerenuk, Grevy's zebra, Somali ostrich, Beisa oryx and reticulated giraffes. They are all gorgeously different! Not part of the '5' but unknown to me was the Vulturine guinea fowl.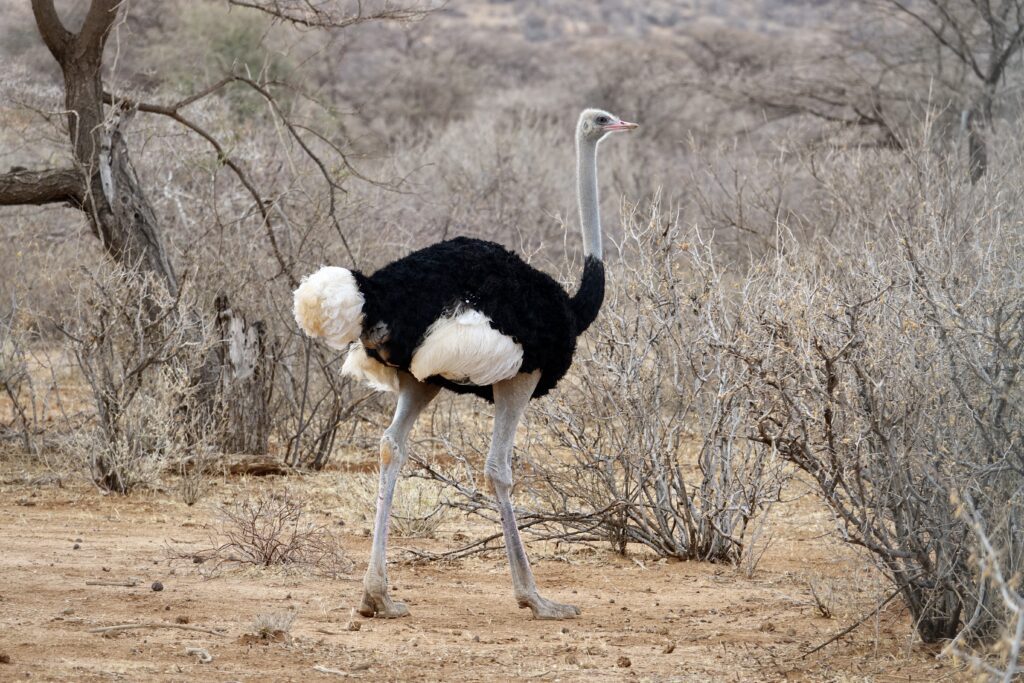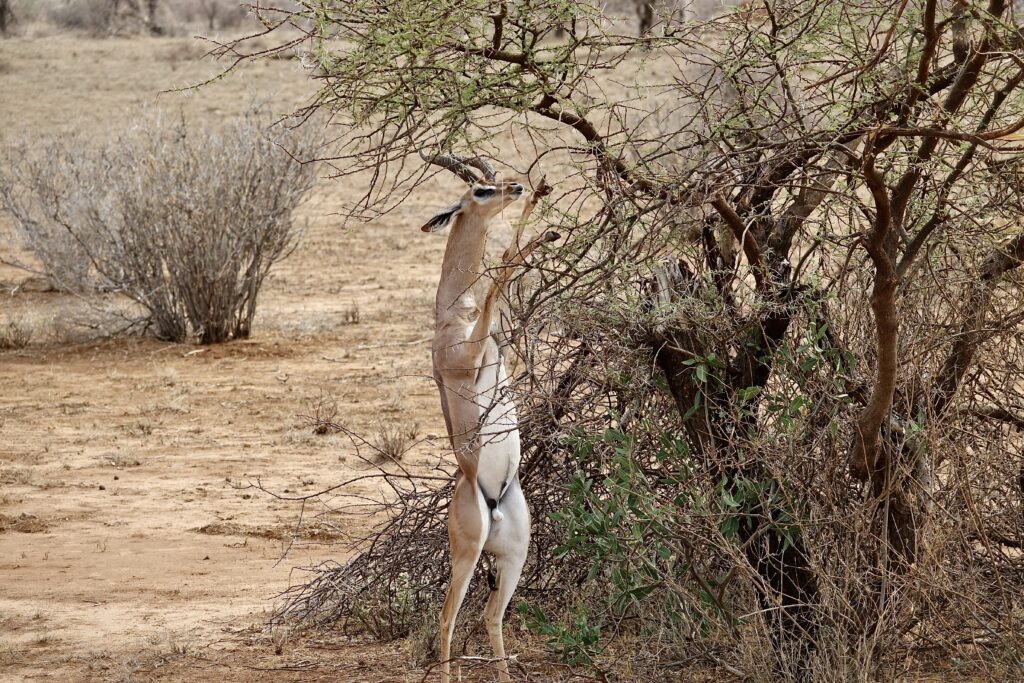 Although as dry as Amboseli, wildlife viewing was good as I did get to see all the above along with many elephants and kudu. (It did start raining my last day so hopefully the drought is over) One of my two days was spent doing site inspections at Sasaab and Elephant Bedroom. Sasaab is beautiful with its Moroccan decor and Elephant Bedroom is a lovely 4* tented camp known for its resident elephants. My two-night stay at Saruni Samburu Camp was an incredible experience! You carefully drive up the large granite rock to the camp perched high on top. Spectacular views of the conservancy below are breathtaking. The serene lounge and dining areas don't photograph beautifully for some reason. The quasi-tents however do! Each tent has a living area with deck and the bedroom has it's own deck, the bathroom is spacious as well. Of course, my favorite is the outdoor shower and this one had the same spectacular views of the valley below. Service is gracious with a friendly staff and the vegetarian food was creatively prepared with cashew loaf, cauliflower steak, and spinach pockets with lentils. My biggest beef with being a vegetarian is camps tend to prepare pasta dishes and there's not enough protein – not the case at Saruni. I hated to leave….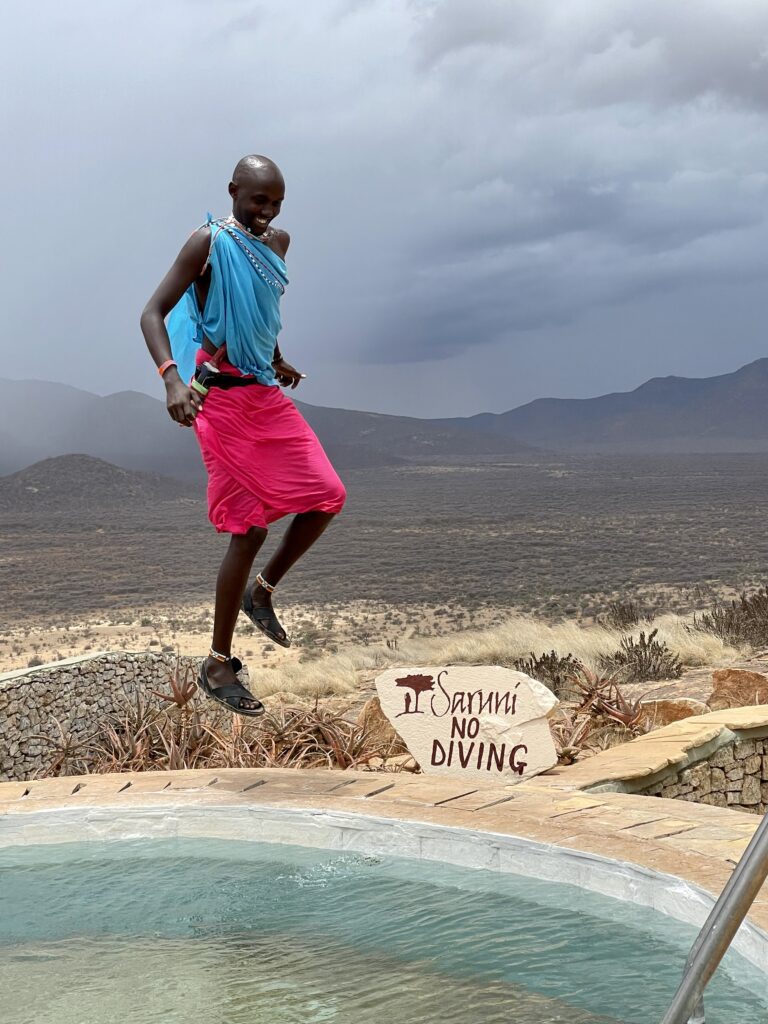 On to the Maasai Mara, or Mara Triangle to be exact. Good news – the Mara is green! We landed at Kichwa Tembo airstrip, close to the &Beyond camps – Kichwa Tembo, the larger of the camps and Bateleur where I stayed. Bateleur South to be specific as they have a North camp also. Tents are charming, with soaking tub and outdoor showers. It was quite the experience to come in one evening and find the tub filled with hot water and a huge herbal bouquet to throw in the tub. The lounge and dining areas are exquisitely designed and at night with lanterns everywhere and a fire going, it's beautiful, peaceful and a place you want to stay. Food is quite good and each meal is produced with flair. I enjoyed excellent vegetarian fare that included tofu, Halloumi cheese, chickpeas and local beans – plenty of protein. The sundowner was delightful with local Maasai dancers, a raging fire, drinks, bitings (as they call them), a bush toilet and hand washing station which was a sundowner first. Simply perfection and I hated to leave here also!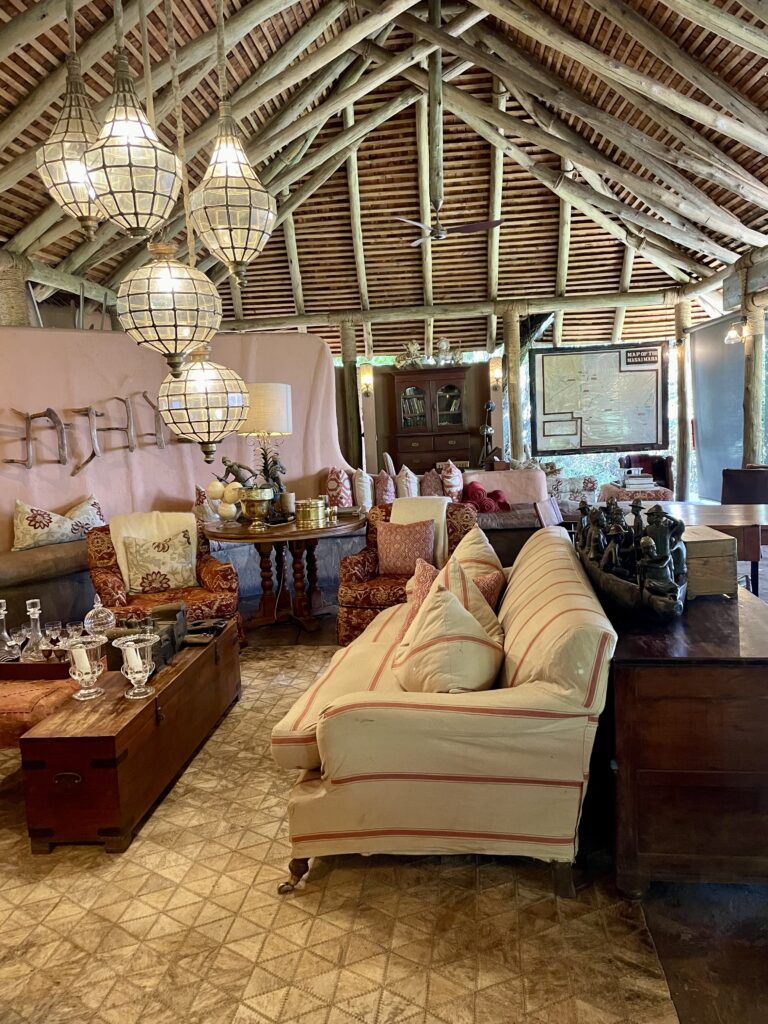 Wildlife viewing was quite good with huge quantities of elephants and topi. Of course, there were the Grants and Thomason's gazelles, zebra, Maasai giraffe, Coke's hartebeest, eland, Cape buffalo and warthogs. Saw my first mating warthogs, also a mating pair of lions and the cutest baby hyena under 2 weeks old. We saw 8 lions at a hippo kill and I have to say it was the grossest encounter ever. The lions took turns crawling into the hippo…..yuck. I deleted most of those photos. No leopard sightings for me on this trip although we tried but I talked to people who did see them. I spent most of one day doing site inspections at Sancturary's Olanana camp on the Mara River with its spectacular views. Perched high up on a hill overlooking the Mara Triangle plains was the charming Angama with its south and north camps. A delicious lunch with multiple vegetarian options was enjoyed facing those amazing views.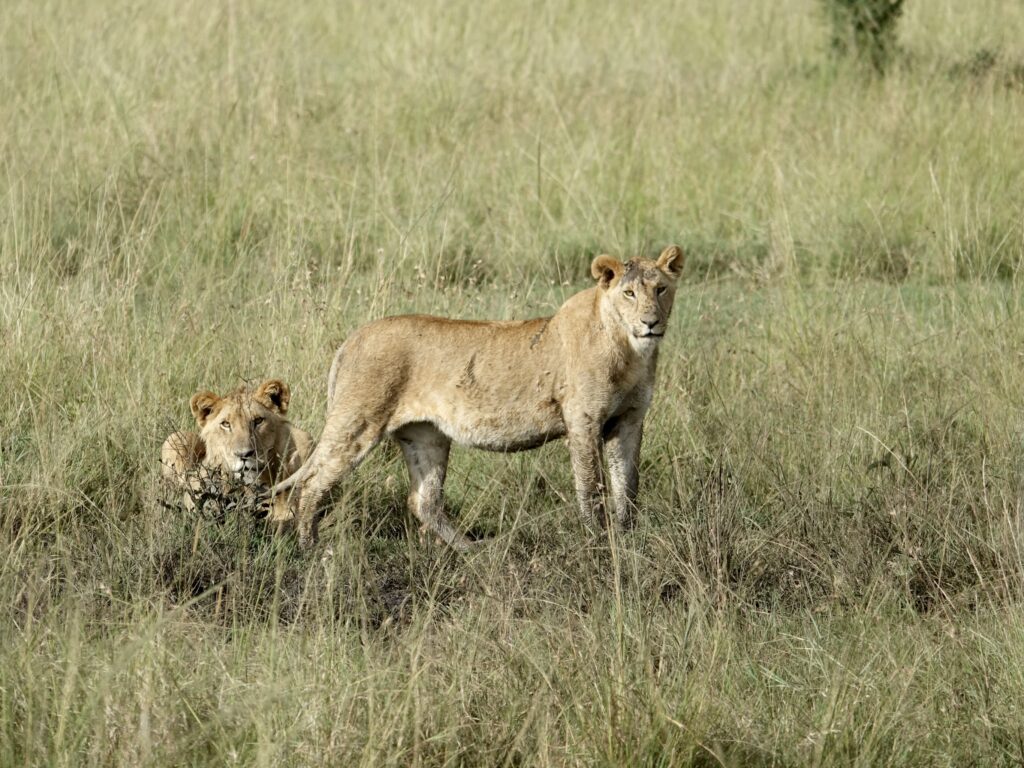 Silver Africa Tours and Safaris is a Kenyan owned and managed DMC that has been in business for 20 years. They have customized vehicles that have been expanded with large windows, padded seats and 4 of the 10 have front seat pop-up openings. I was able to travel with 3 of their guides and enjoyed the experiences with each of them. The owner is chairman of KATO and very well connected to make things happen. I spent a morning in the office and got to meet many of the team, including the air and itinerary building teams. I'm proud to represent Silver Africa Tours and Safaris and look forward to working with them.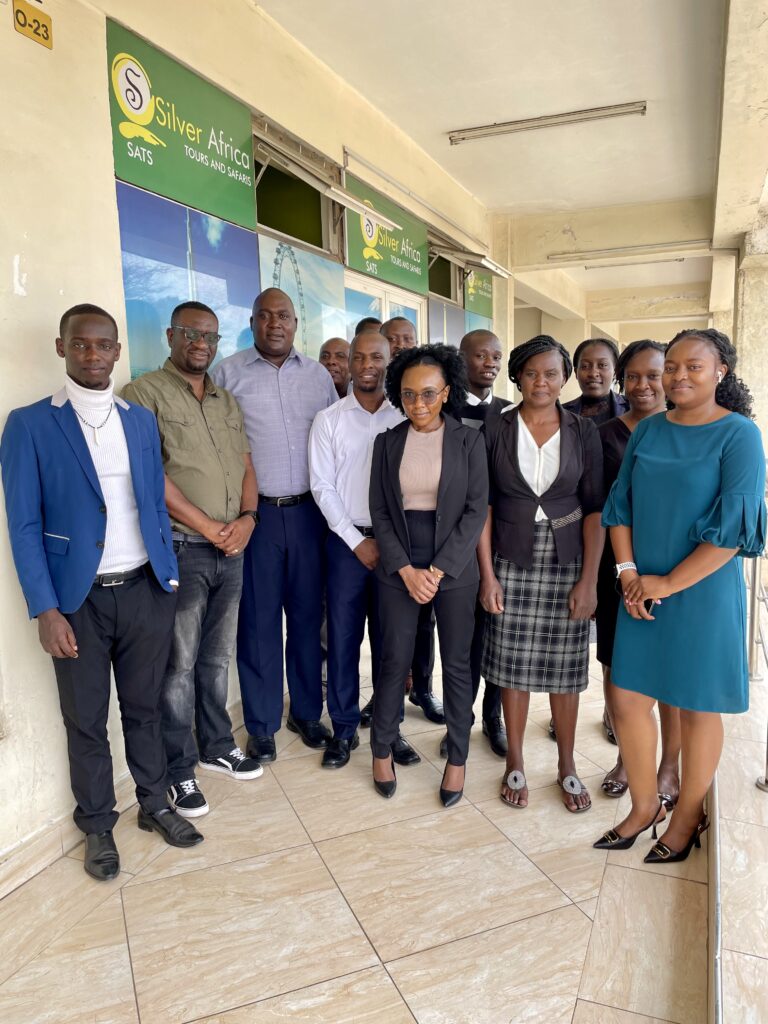 Kiki Paris / March, 2023