Leopards + Tigers Oh My – Incredible India!
Leaves fall as the wind whistles through the trees while they whisper to one another. Birds sing, insects and frogs make their presence known. Spotted and sambar deer along with langur monkeys scream their alarms. A predator lurks as the jungle gives up its secrets if you only stop, be, listen.
Bandhavgarh was our first national park after flying from Delhi to Jabalapur then making the four hour drive on mostly tarmac roads. What we would consider one lane but here serves as a two lane road for cars, trucks with their 'Blow Horn" signs, motorbikes, cows, dogs, walking and biking people, you drive through villages with open-air markets on either side of said road, or the country side, and farm plots. It's colorful, chaotic, busy and full of life for the never-dull journey.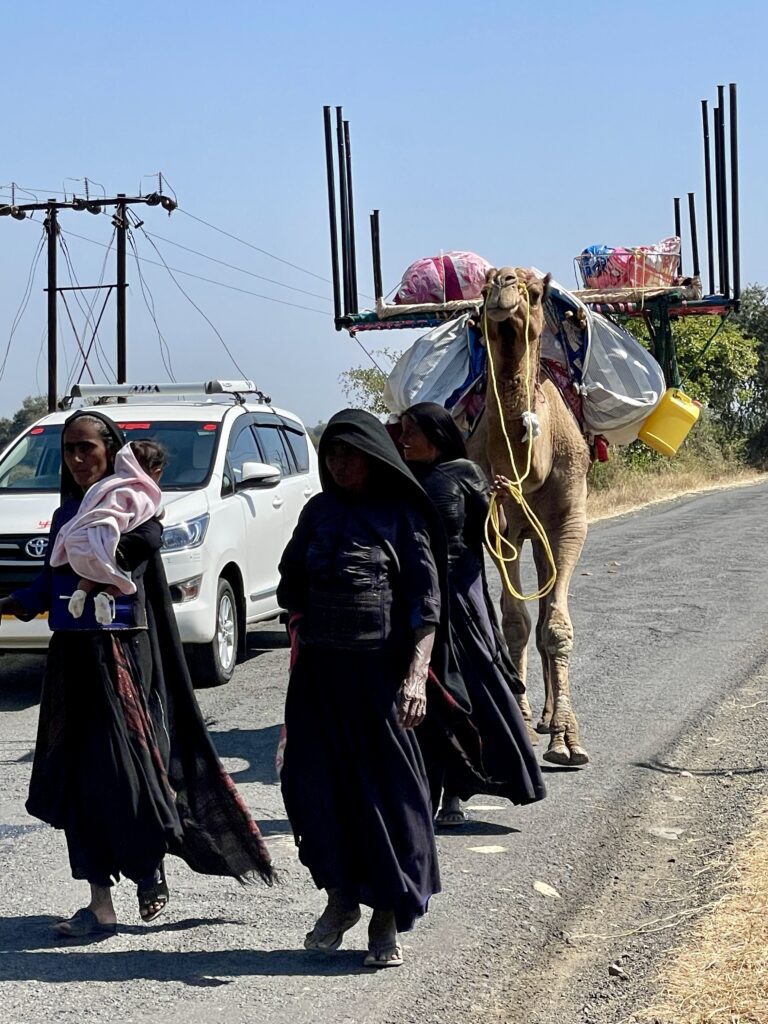 Bandhavgarh is known for Sal trees, Mahua trees whose fruits are collected by people who make a local liquor and sloth bears who love the fruit.  Yes, conflicts arise.  If during the right season, flame of the forest trees will light up the jungle with reddish-orange blooms.  While staying at Kings Lodge with its spacious cottages and helpful staff, we saw Jamhol (albeit a rear-end shot), a 4 year old male tiger and enjoyed a spirited dance performance by the Baiga tribe. I also photographed my first ever racket-tailed drongo!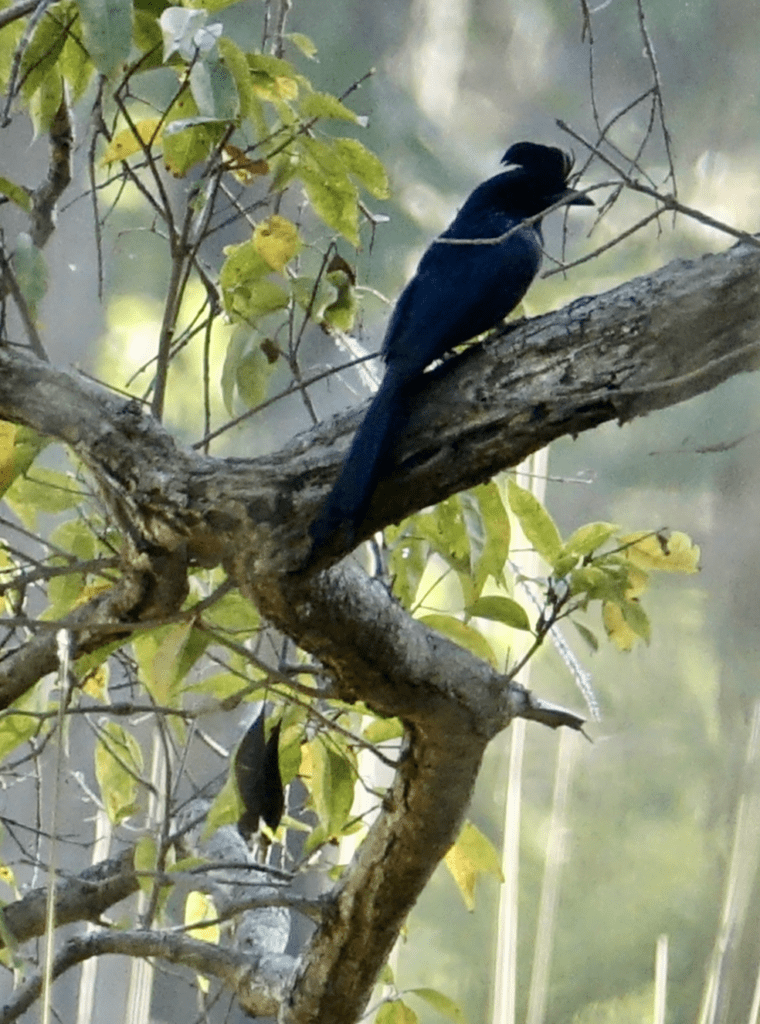 On to Kanha national park via another 4.5 hour drive through the countryside with similar above scenes – always something to see out your window.
Kanha, maybe the most beautiful of the parks, is filled with more sal trees and bamboo. We spotted sambar deer, Barasingha or swamp deer, chital or spotted deer, muntjac or barking deer and nilgai or blue bull along with the Indian gaur. On our first game drive, within the first 5 minutes we saw a tiger's back end as it quickly walked into the forest. Otherwise on three game drives, no other tigers were spotted. There were so many alarm calls that turned out to be false that I stopped trusting the spotted deer. We did have two dhole or wild dog sightings, the last one with a baby spotted deer kill. The charming Kanha Earth Lodge was our home for two nights where we enjoyed a bush dinner and delicious food. Bungalows are spacious as are the bathrooms with double vanities, shower room and two loos.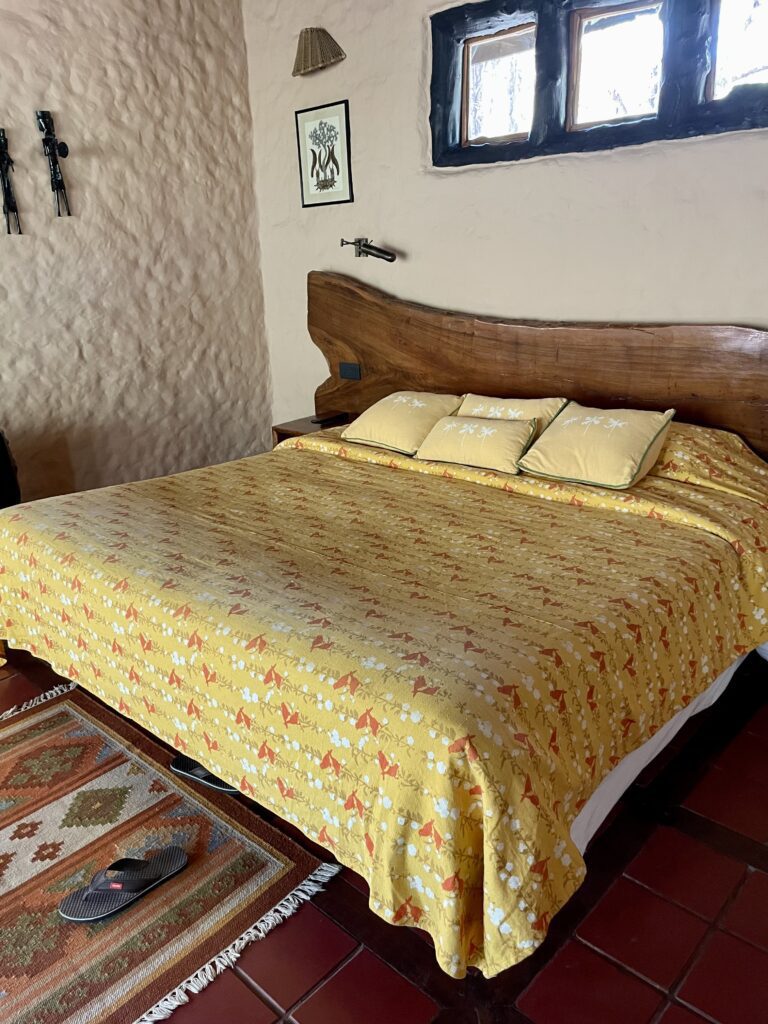 Onwards via another 4-hour drive to the beautiful Pench national park known for its teak and bamboo trees and my favorite, ghost trees. We stayed at the fun Pench Tree Lodge with its tree houses and a few cottages for those who don't wish to walk the spread-out property and climb stairs. Dinner was served in the organic garden with our scrumptious meal cooked outdoors where we could watch.  We were excited to have a nice long viewing of the tigress, Laxmi, as she walked from one side of the forest across the road into the sal trees.  This charming property has a new underground hide which is great for bird viewing.  Night cameras catch the occasional leopard and other small mammals.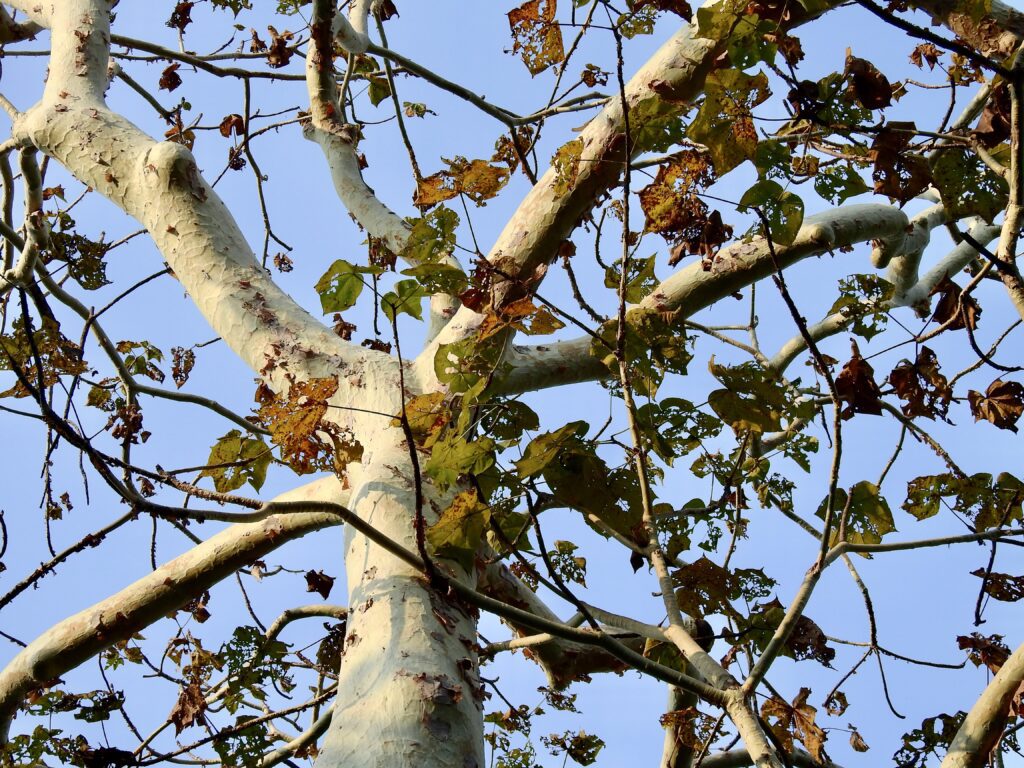 The longest drive, just under 5 hours mostly on a 4-lane highway was from Pench to Tadoba national park which is where we crossed from Madhya Pradesh into the state of Maharashtra.  Both of these national parks are close to the Nagpur airport.
Tadoba is populated by bamboo trees, teak and jamun trees, beautiful with their twisted trunks. Ghost trees are dramatically interspersed in this forest also.  Tadoba has the highest concentration of tigers for its size.  Our first game drive in the buffer zone was quiet until the last hour and a half where we tracked two tigers, Shambu, the male and W, the female.  It was Valentine's Day and yes, we were privileged to see two mating actions!  There were at a great distance so I was using my maximum zoom to capture them through the tall grasses.  Our next morning drive in the core area yielded a dominant male tiger named Rudra walking out of the grasses around a pond into the forest.  Only two game drives in this park as our stay at Waghoba Eco Lodge was sadly only one night. Food was outstanding, the team was gracious.  The cottages, lounge, library and dining areas are quite unique with local architecture built to stay cool in the heat.  The pool is built under the lounge/library/bar to shield swimmers from the blazing sun.  This park is different in that they have very different rules: no mobile phones allowed in the buffer zones or park area and once you enter, you can drive anywhere in the park and not limited to zones as the other national parks are.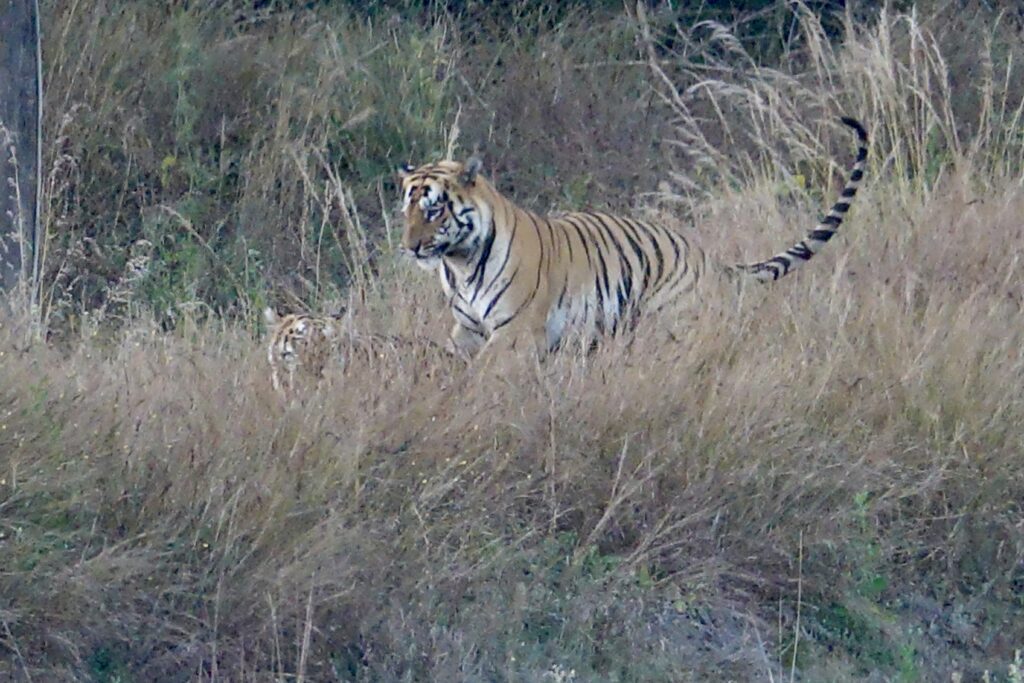 It's only a two and a half hour drive from Tadoba to the Nagpur airport so we made our journey back to Delhi where Royal Expeditions arranged day rooms for some and a full day of shopping and overnights at Aerocity by the airport.
For a few of us, we started our trip in Udaipur in an area called Jawai, famous for its leopards.  I'd never been there so it was an exciting, new experience for me.  We stayed at the lovely six-cottage Bijapur Lodge where we were hosted by one of the owners.  Jawai is also a great birding area especially for the colorful rose ringed and plum headed parakeets along with a number of raptors.  It was startling to drive right up onto the large granite rocks to look for leopards!  We had three leopard sightings on four game drives.  Be forewarned you need a good zoom lens or binoculars as the leopards were at a distance.  While staying at Bijapur Lodge, we did a hike to a Hindu temple and had breakfast on the rocks.  There are quite a few different cultural experiences with shepherds, bush dinners and other activities.  We got to play with goats and see a baby goat that was 1 hour old. The one negative about Jawai is the area is littered with trash absolutely everywhere, even our hike to the temple.  It was quite shocking as Delhi was very clean as were the other national parks and driving through the countryside and villages.  The lodge owners are trying to change the litter culture but it will be a massive cleanup that all the properties need to pitch in.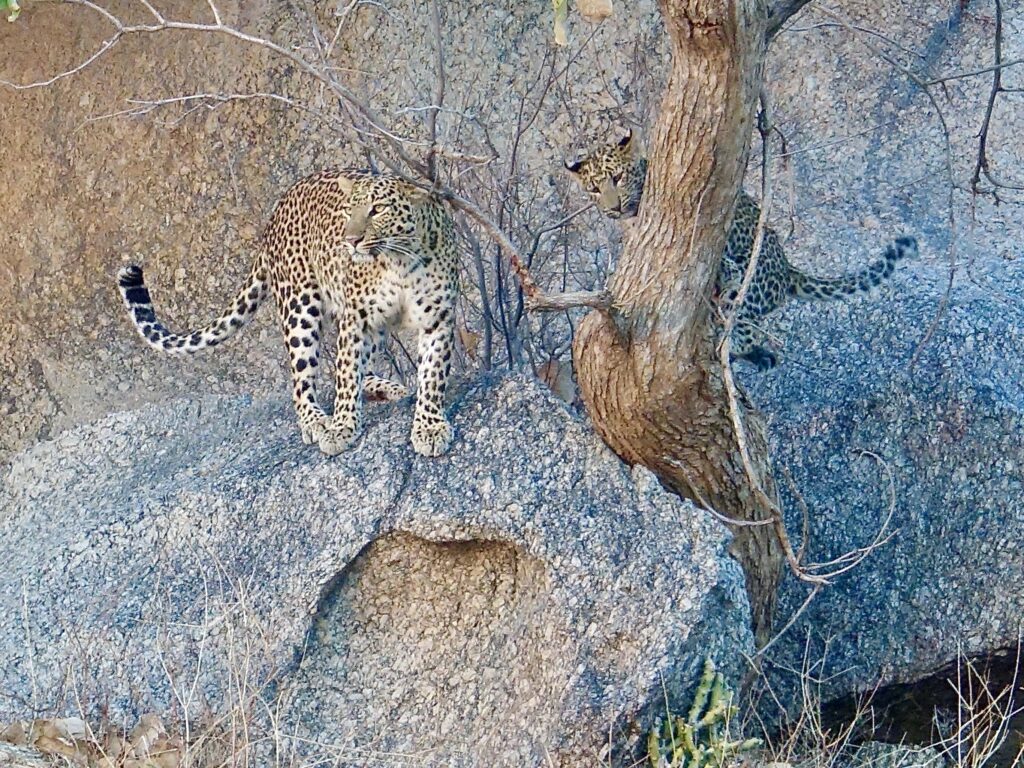 Royal Expeditions was founded in 1990 by the Princess of Jodhpur who was also in Parliament for 20+ years and the Minister of Culture, very well connected to say the least!  Vishal Singh, partner and managing director helped found TOFTigers and is the India Director so he's very passionate about wildlife and conservation. The Pugdundee Safaris' lodges where we stayed for tigers are all conservation focused and use no plastic.  Suffice it to say, Royal Expeditions knows all the best experiences and places to stay along with the logistics of navigating the huge country of India.  They also arrange trips in Nepal, Bhutan,  Sri Lanka and Maldives. I am proud to represent Royal Expeditions for the last 12 years!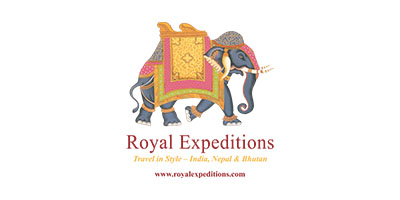 It was great to be back in India, a country I love, filled with color, spices, organized chaos, history and beauty.  2019 was my last visit due to the pandemic – all seems back to normal now.  We traveled throughout the country via plane, new comfortable air-conditioned SUVs, stayed at multiple lodges with no issues. India is back!
Kiki Paris / February, 2023