Orgy at San Ignacio Lagoon
Whale encounters in San Ignacio are much more than whale watching which I've done previously.  This experience was very much like a safari with knowledgable guides and the opportunity to learn about these magnificent creatures.  The pangas are close to the water; the guides and captains are locals and ex-fishermen who know the lagoon waters and migratory whales like the backs of their hands. 
If you've never witnessed mating whales, it's quite the experience! My safari guide, Peto, spotted them frolicking in the distance and our panga captain sped in that direction. We were close enough for me to take photos with my iPhone but we had to be careful as the 3 males and 1 female were quite active rolling over each other, diving below, resurfacing, more rolling, etc., for approximately 45 minutes. Whale appendages are called "Pink Floyds" by the locals and I'll never be able to listen to 'Dark Side of the Moon' without these images. (Admit it, you're curious so photos below) Of course they're large, befitting a typical gray whale, the 7th largest whale that can weigh up to 60,000 pounds. Because I'm curious, I Googled it, and the largest mammal, the blue whale, has bragging rights over an elephant.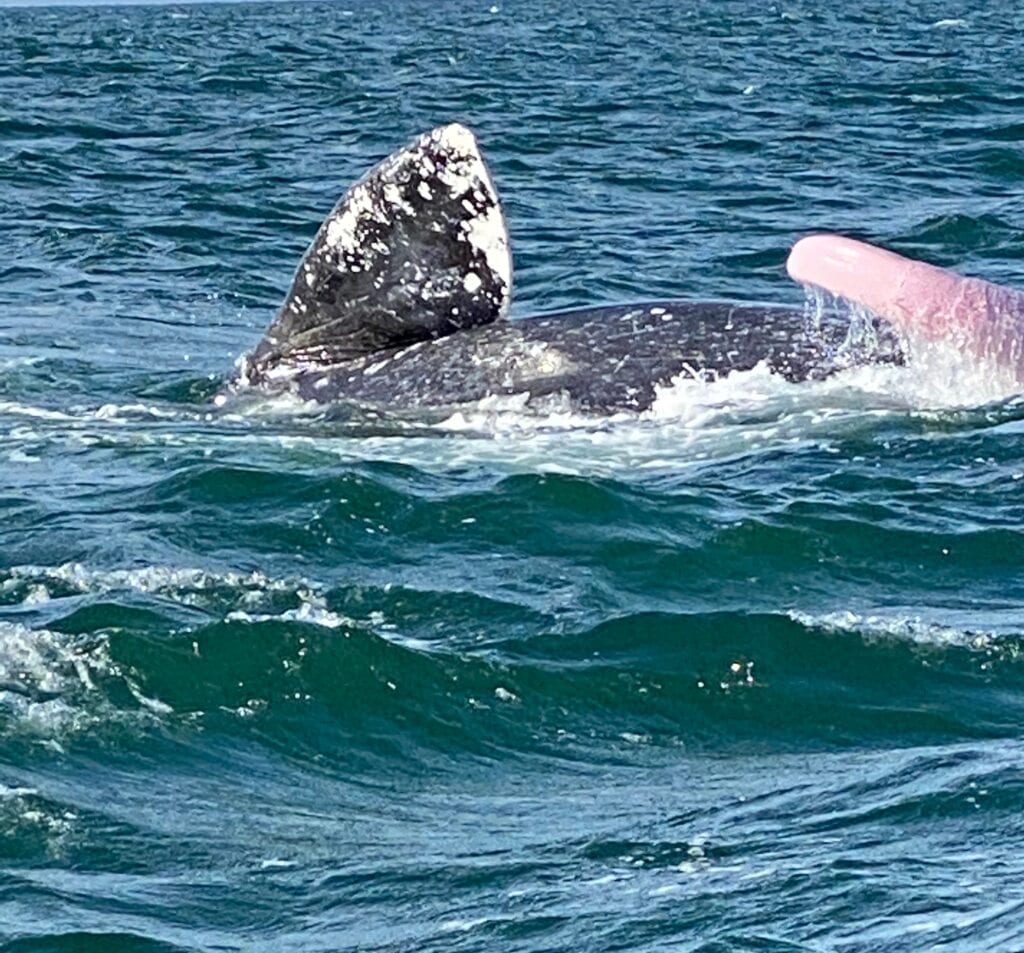 Unlike land mammals who fight it out for dominance before mating, multiple whales will each penetrate the female and the "little swimmers" that impregnate her are the winner. As males don't know who the father is, they don't form a family unit. You will find female whales with their calves but no males hanging around. If the females have identifying features, the locals name them. Peto pointed out Lola and Tiny Dancer – I guess music is the international language!
The whales who want to "play" will swim under the panga and might gently bump it. I asked of course: no whale has ever turned over a panga. Or they may swim right next to you and splash water through their blowhole – I was splashed twice. If they're being especially playful, they will swim along side the panga and you can touch them. I GOT TO PET A GRAY WHALE! It was thrilling. Although my whale didn't want to be hugged, there are numerous photos of whales letting people hug them. My next trip!
As on any safari, it's all about the wildlife!
kiki paris / march, 2021 / All the photos except are mine.